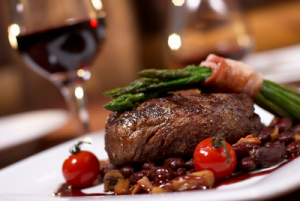 For over 20 years Casper's Catering has specialized in events of every type, providing food service for corporate or intimate events. Our experience and flexibility help to add creativity and individuality to your event. Whether you are having a corporate picnic, wedding, or social event, Caspers seeks every opportunity to make your experience memorable.
Small-Firm Relationship,
Large-Firm Results.
Casper's Catering is a small personal catering firm that seeks to create an elegant, personal experience. Unlike the large catering operations, we are take the time to hear your wishes and to create a wonderful event.
Interview with Chef Matthew Hall
"Bubbling and full of adventure, Chef Matthew Hall, simmers down with Success to discuss his life-long love affair with food and his latest business venture."
Meet Chef Matthew Hall, famous for creating meals that are meant to be savored with family and friends. He does anything but go with the grain!
Success: "What inspired you to become a chef?"

Chef Matt: "I've always loved food since I was very young, 8 I think. Food seems to speak to me when I am preparing it – giving me ideas on how to prepare a great dish.

Success: "What was your first job?"

Chef Matt: "I started working at a Chop House in Mt. Pleasant when I was 15, where I really grew to enjoy the eccentricities of kitchen life."

Success: "Matt you'll be preparing gorgeous appetizers for us, what do you love about appetizers>"

Chef Matt: "Appetizer parties are amazing because a person can experience so many flavors and culinary treats while engaging friends in conversation."

Success: "What is your favorite dish to make?"

Chef Matt: "My favorite dish is a Veal Loin barded with Fois Gras and served with Chanterelle Mushrooms, but my favorite food to eat at home is my wife's chocolate chip cookies!"